I've often said to clients and other agents that "moving is one of the most stressful life events." Now I can site sources that agree…
The website www.healthstatus.com lists the Top 5 Stressful Situations as follows:
Death of a loved one
Divorce
Moving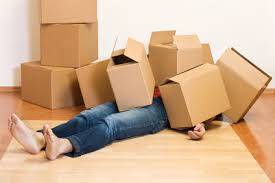 USA Weekend also agrees in the article "Make Your Move Less Stressful" (Wuorio,Jeff. "Make Your Move Less Stressful" USA Weekend" 01/19/2014. Print.)
Here's the text of the article:
"Death, Divorce... and moving. Some studies suggest that relocating your home is the 3rd most stressul event in life. True or not, no one denies that moving can set your nerves jangling. But there are ways to bring the boil down to simmer. Here are three:
Give yourself enough time. People who try to plan and execute a move in only a few days merely increase the odds of a taxing experience. Instead, allow yourself as long as three weeks to move, says Manuella Irwin, a relocation expert at MyMovingReviews.com
Research your moving companies carefully. A mover with a very low bid may be a fly-by-night operation, which can result in both delayed deliveries and dam­aged goods. Check with the Federal Motor Carrier Safety Administration (fmcsa.dot.gov), which can link you to websites where, for a fee, you can uncover safety records and other valuable information.
Get comprehensive estimates. Irwin recommends that consumers obtain bids from at least three carriers. But make sure to go into detail: "Ask for rates for extra services — packing, storage, long carry, stairs, bulky items handling and fuel surcharge. Those may make your moving bill skyrocket on moving day," Irwin says.

I'd add another piece of advice to help you begin your move at a lower stress level:
Pick a great real estate agent to help you find the right home BEFORE you move!